Dental implants are the only permanent replacement for missing teeth. An implant can replace any number of missing teeth, from just one to all the teeth in the mouth. Whether you are missing several consecutive teeth or a few teeth in different parts of your mouth, there are implants that can work in our case.
Dental Implants to Permanently Restore Multiple Teeth and a Full Beautiful Smile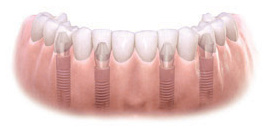 A single tooth can be replaced with an implant that consists of the implant itself, a metal post that is inserted into your jaw, and the crown or artificial tooth that is affixed to it. If you have a few teeth missing in different parts of your mouth, you could receive individual implants to replace each tooth. When several teeth in a row are missing, or if you are missing all of your teeth on the top, bottom or both, usually implants consists of dental arches or bridges containing a few crowns, with each bridge supported by a few implants.
There are actually several different options when it comes to multiple tooth implants. The first step in determining what type of implants would be right in your situation is a thorough examination by Dr. Rye. At Rye Smiles for Life we use 3D technology to perform dental X-rays and design a personalized plan for your dental treatment. The number and type of implants that are the most likely to be successful can be determined after an exam and consultation. Factors that need to be considered are the condition of your teeth and gums, the amount of jaw bone you have and your overall health.
When dental implants are successful, they are permanent. Your body accepts the implants and they become part of your jaw, which supports the bone under your gums and prevents it from wasting away. This means you not only have permanent teeth that do not have to be removed like dentures, but you will also maintain a more youthful appearance and fuller look to your lower face.
For patients who are determined to be good candidates for dental implants, the success rate is nearly 100%. Most healthy people can get dental implants, and even if you have been without teeth for some time, there is a good chance that there is a type of dental implant that could work for you.
Call our Fairfax, VA office now at (703) 565-2503 or set up an appointment online for a consultation to learn more about implants and how they could give you a permanent and beautiful smile.