Posted under:
General
Posted on: June 11, 2020
When to Seek Help for a Dental Emergency in Fairfax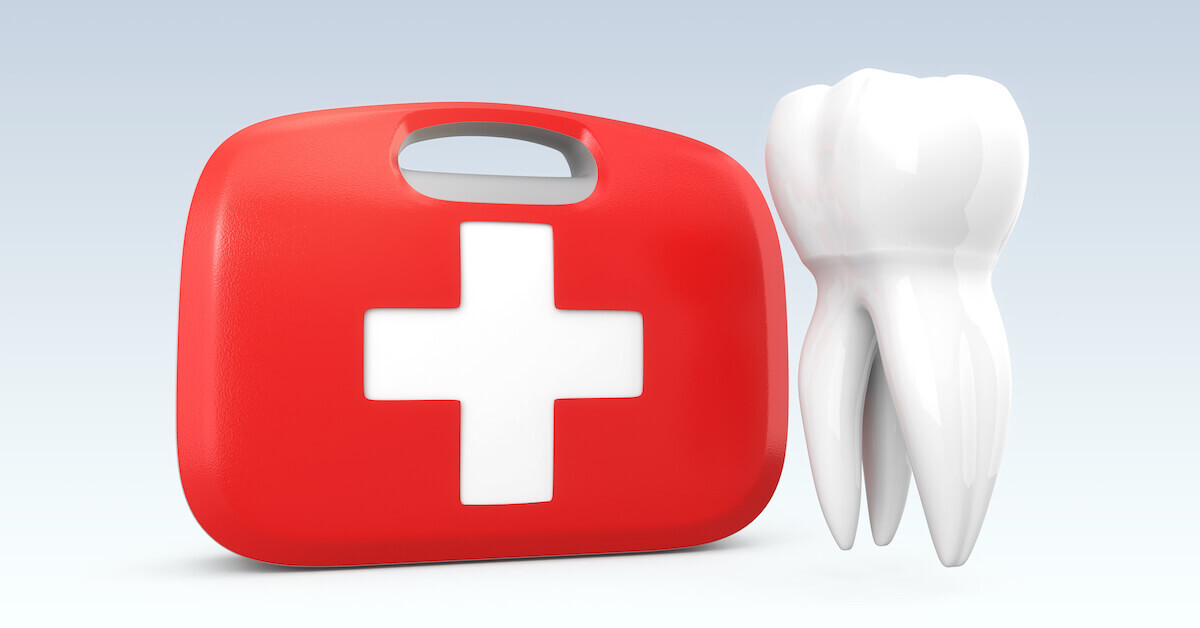 Do I Need Emergency Dental Treatment in Fairfax?
A dental emergency is extremely stressful and, according to the CDC, unplanned oral care costs more than $45 billion in lost job productivity and 34 million lost educational hours each year. By learning more about dental emergencies, you can be prepared if you or a loved one experience an oral care emergency.
The definition of a dental emergency varies by the individual because some people have a higher tolerance for pain and can endure it better than others. You're the best judge of what's an emergency and if you're in excruciating pain, then it's an emergency. If you have severe pain from a tooth or in the area of a tooth and it disrupts your sleep and doesn't respond to over-the-counter pain medications, then you should seek dental emergency services immediately.
What Issues Are Considered Dental Emergencies?
Other issues that can be considered dental emergencies include:
A swollen airway that makes breathing difficult
Cavities that cause excruciating pain. If they're left untreated, they can become abscessed, which can have serious dental and medical consequences
Mouth pain that's accompanied by chills and a fever
Heavy bleeding after a gum injury
A tooth that's been cracked, chipped, knocked loose or knocked out
Do You Know the 7 Signs of a Dental Emergency in Fairfax?
If you have any of the following signs, then you need to see an emergency dentist without delay.
Fractured jaw: If you've fractured your jaw or you think you have, then you need to seek immediate emergency dentistry to ensure that your teeth are undamaged, not misaligned and to obtain pain medication or treatment.
Knocked-out tooth: If one or more of your teeth have been knocked out, you may be able to save them if you receive dental emergency treatment within one hour, according to the ADA.
Gum injury: If you've cut your gums or if they've been gouged, then you need to seek emergency dentistry from a local dentist.
Facial edema: If your face is swollen, it can indicate the presence of a serious condition, so seek emergency treatment right away. A swollen face can indicate a severe allergic reaction called anaphylaxis, an infection or inflammation, a fracture, or a dislocated TMJ, so get treatment quickly.
Hemorrhaging: If you've had an extraction or experienced facial trauma and you can't stop the bleeding, then you have a dental emergency in Fairfax and you need immediate treatment.
Dry socket pain: Statistically, fewer than five percent of patients develop a dry socket after an extraction, but if you do, that's a dental emergency. A dry socket develops when the blood doesn't clot in the socket after an extraction, and the bone and nerves are exposed to air, food, and liquid. The pain can be intense and is usually not responsive to over-the-counter medications. The pain can radiate to the neck and ear, cause a headache and dizziness, and because of the infection, you may notice an unpleasant mouth odor. If this is the case, then seek emergency treatment for your dental needs.
Dislodged or fractured filling: A broken filling can have very sharp edges that can damage your cheeks and tongue, so if you've lost or broken a filling, be sure to see a dentist without delay. You can do this on an emergency basis or you might want to use our same-day, walk-in dental service.
Can I Delay Getting Emergency Treatment for an Abscess?
An abscessed tooth is a serious condition that can adversely affect your major organs as well as your bone marrow and your bloodstream. It can cause mediastinitis, which is swelling and irritation of the area between the lungs, and the mortality rate from mediastinitis is as high as 40 percent. The infection can travel to your sinuses into your brain and eventually be fatal, so ignoring treatment for an abscess is extremely dangerous. When treated promptly, the prognosis is good, but without treatment, you could die from an abscess. The best treatment for an abscess is prevention, which can be accomplished through a regimen of good dental hygiene. Abscesses usually stem from untreated cavities, so maintaining good dental health is the best prevention for an abscess.
Other causes for bacterial infections include:
Cavities
Unsuccessful root canal
Cracked or broken tooth that's not repaired
Wisdom tooth that didn't fully erupt
If you have an abscess, your dentist will drain it and then start you on antibiotics to eliminate the infection. They'll also evaluate the tooth to determine whether it can be saved or if it needs to be extracted.
Can I Delay Getting Emergency Treatment for a Cracked Tooth?
No matter how good your dental hygiene is, accidents happen. Maybe you bit down too hard on a piece of ice or hard candy or you had a traumatic impact from sports and cracked a tooth. You might have bruxism, causing damage to your teeth from your nightly grinding. Whatever the case, an appointment with your dentist can help you prevent future trauma to your teeth. If you're active in high-contact sports such as football, hockey or basketball, then a custom-fitted mouthguard can help protect your teeth. It can also safeguard against the damage from bruxism. If a custom mouthguard isn't an option, then stock models or boil-and-bite models are available over the counter. Be sure that your mouthguard is ADA approved so you can be sure it offers the best protection for your teeth. Many other problems can be avoided by practicing good dental hygiene, which includes regular dental checkups.
If you need emergency dentistry in Fairfax, please call our Dental Care Alliance practice and you'll be assured of the highest quality service, which we'll make affordable for you. Call us today for an appointment or you can schedule one online. We look forward to working with you.