Posted under:
Cosmetic
Posted on: May 30, 2012
What veneers can do for you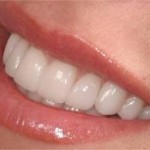 Although a lot of dentistry is medically corrective and involves fixing actual health problems with the teeth, jaw, and mouth, sometimes problems can be cosmetic, as well. Perhaps your teeth are shorter than you think they should be, slightly chipped or discolored, or maybe there's a small gap you'd like to cover up.
All of these problems and more can be fixed with veneers. A veneer is an extremely thin porcelain shell that fits over your existing tooth and corrects issues with the appearance of the tooth. This can be applied to one tooth, a group of teeth, or even an entire row. Generally only the front teeth (i.e. the ones that can be readily seen) require veneers for cosmetic purposes.
If you're interested in getting veneers for one or more of your teeth, two appointments will be necessary. At the first appointment, Dr. Rye will address your cosmetic dentistry concerns, talk to you about your options, and help you to make the best decision for your perfect smile. If it turns out that veneers are indeed your best option, an impression of your teeth will be made so that it is easy to create veneers that fit perfectly over each tooth. Once the veneers are made, you will be asked to come back for a second appointment, where the veneers will be bonded to the teeth.
The process of bonding the veneers is not painful, and can make a huge difference to your smile. Once the actual application is completed, the last step is to buff the veneers and also the surrounding natural teeth so that your entire smile shines.
Some people worry about whether or not their veneers will be like their natural teeth, but in fact after you've had the procedure done, it's very likely you'll simply forget you have them. Modern veneers not only feel natural, they look completely natural as well, and you won't have to worry about feeling self-conscious or wondering whether people know you have veneers.
There's no reason not to have the smile you've always wanted, and if cosmetic problems are holding you back, it's time to do something about it. Contact our Fairfax dental practice today to make an appointment, and start looking forward to having something to smile about!