Think colas are the only enemy drinks?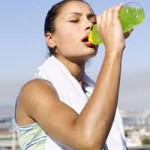 We've long known the dental dangers of letting children and teenagers drink sugary, carbonated drinks, and most of us try to avoid them as adults, as well. However, staying off carbonated drinks may not be as much of an automatic safety net as previously thought, as there are other enemies to teeth that are becoming more and more popular: sports and energy drinks.
In the latest issue of General Dentistry, a study has been published showing the detrimental effects of some of the most popular sports and energy drinks. The elevated acidity level of these drinks erodes tooth enamel, causing damage to the teeth that is irreversible. As the study shows, some drinks are worse offenders than others, but none of them is particularly safe in terms of dental health.
What is worrying is that adolescents are the age group most likely to fall for the promises that sports and energy drinks offer. They look forward to higher energy levels and better athletic performance, and most believe that energy and sports drinks are actually good for them, or at least better than carbonated drinks.
The Academy of General Dentistry has issued a press release about this study, which has alerted major media outlets to the issues surrounding consumption of sports and energy drinks. A spokesperson for the AGD has recommended that people, especially adolescents, reduce or cease drinking these beverages.
If you do drink energy or sports drinks, you might be tempted to brush your teeth right afterward, but this is probably not the best idea. According to the AGD, brushing the teeth simply spreads the acid around all the surfaces of the teeth, which actually makes the problem worse. A better idea is to rinse the mouth out with water or chew sugar-free gum, which will increase the amount of saliva in the mouth, helping return acidity levels to normal.
If you've been a regular consumer of sports drinks or energy drinks or both, it's probably time to change your habits, for the sake of your teeth. Make an appointment for a dental checkup so Dr. Rye can see how your teeth are doing, and start incorporating more natural drinks like water into your daily intake.