Posted under:
General
Posted on: June 21, 2021
Reasons and Remedies for Tooth Discoloration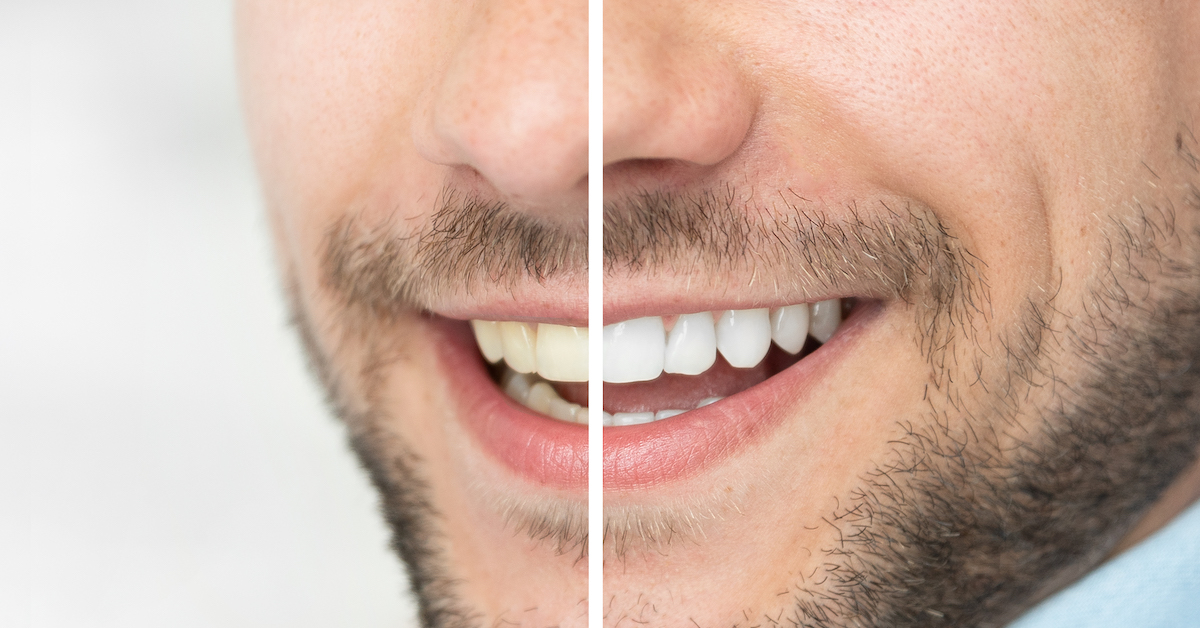 Finding affordable and practical solutions for stained or discolored teeth can help you and your family members to feel much more self-assured during your interactions with others at school, at work or at play. When you have discolored or stained teeth know that there are affordable and effective solutions available to fix discolored, dull or stained teeth and help you look your very best. Here are some important facts that everyone should know about stains and discoloration of tooth enamel.
What Are the Causes of Tooth Discoloration?
The enamel of your teeth contains many small pores that can absorb chemicals and other substances fairly easily. If you consume foods or drinks that are dark colored or that contain chemicals that are easily absorbable by your tooth enamel, you can develop stains that may range from yellow to dark brown.
Smoking tobacco can allow nicotine and tar to stain and discolor your teeth. These chemical compounds can cause severe yellowing of your teeth that will usually require professional cleaning and whitening to correct.
Some prescription medications, including antibiotics and anti-psychotics, can also have an impact on your teeth. These issues may require the application of veneers or crowns to achieve the best results.
Tooth decay can sometimes cause teeth to become discolored or blackened. This results when the tooth enamel has thinned to a degree that allows the decayed portion of the tooth to show through the thin layer of enamel that remains.
Why Your Food and Drink Choices Matter
While not all stains or discolorations of your teeth can be traced back to the foods you eat, tooth decay and damage to your tooth enamel are definitely important contributing factors in many cases of yellowing or discolored teeth. Sweet, starchy or sugary foods are often culprits in causing the formation of plaque, which plays a major role in tooth decay for many of our patients. Brushing promptly after each meal and flossing can remove most of these materials from your teeth. For added protection, however, regular teeth cleaning is necessary to eliminate tartar deposits and plaque that could otherwise affect the appearance of your teeth.
Coffee and tea are often mentioned as drinks that can cause stains on your teeth. The tannins in these drinks and in certain varieties of wine can be absorbed into the surface layer of your tooth enamel to create dark brown stains. Rinsing your mouth and brushing your teeth after consuming these beverages can reduce their impact on the whiteness of your teeth, which can help you to feel much more confident in all that you do.
How to Prevent Tooth Discoloration
Along with regular dental hygiene activities, you can make a big difference in the appearance of your teeth by drinking plenty of water and rinsing your mouth after every snack, meal or sugary drink. Switching to sugar-free drinks rather than sugary beverages can also reduce the likelihood of discoloration because of tooth decay.
Increasing your dietary intake of foods that contain omega-3 fatty acids, calcium and other essential minerals can help you to keep your teeth and bones strong. Omega-3 fatty acids are found in flaxseed oil and in fish. These nutrients offer anti-inflammatory benefits that can significantly lower your chance of contracting gum disease, which is a leading cause for tooth loss in the United States. By choosing healthier foods and putting your dental health first, you can often enjoy more beautiful and functional teeth for many years to come.
Why You Should Stop Smoking Now
Tobacco causes yellowing of the tooth enamel and can result in brown stains that require the use of professional bleaching trays to remove completely. The nicotine and tar in cigarette smoke can not only soak into your tooth enamel but can also cause bad breath and damage to your gums. All dentists and medical professionals will recommend that you abstain from the use of tobacco. If you need assistance with quitting, seek out recommendations from your dentist or doctor that can help you kick the habit and begin your journey to whiter teeth and a healthier mouth today.
How to Prevent Tooth Discoloration
Some of the best tips to help you keep your teeth whiter include the following helpful hints:
Brushing and flossing after every meal can prevent stains and plaque from causing serious damage to your teeth.
Rinsing with a fluoride mouthwash may be recommended to help keep your tooth enamel strong and healthy.
Rinsing your mouth with water is recommended after any snack or drink with sugar in it.
Schedule twice-annual teeth cleaning appointments to remove plaque and tartar.
If you need a dental procedure, taking care of this as quickly as possible can prevent long-term damage to your teeth and can preserve the beauty of your smile.
Over-the-counter whitening kits and toothpastes may provide some help in managing very minor stains or yellowing. For anything more serious, however, we recommend a visit to our dental office to undergo professional whitening treatments. These services are designed to provide you with the most noticeable improvements in the appearance of your teeth.
Whitening Treatments in a Dental Office
Along with whitening treatments that are performed in a dental office, if your teeth are not responding to whitening in office or at home, you can ask your dentist about veneers that go over severely stained teeth. Crowns are also available in tooth-colored materials that will enhance the beauty of your smile and will help with supporting the structural integrity of damaged teeth.
You may also consider asking your dentist about over-the-counter options to help whiten your teeth. While much less effective than in-office whitening procedures, if you are not in a rush, you may consider using them. Just keep in mind that they may cause gum sensitivity.
To learn more about how we can help you protect the beauty of your smile, give our team a call today at (703) 565-2503 to schedule a consultation with us. We look forward to the chance to help you enjoy brighter smiles and a lifetime of better dental health in Fairfax.