Preparing Your Teeth for Summer Vacation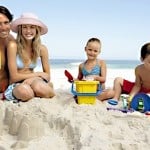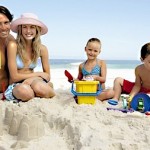 Now that school is out, many families are taking advantage of the summer by going away on a trip somewhere nice. The last thing you want is for a tooth problem to ruin your vacation, so it's important that you take care of your health both before and during your trip.
If you're thinking about putting off your next cleaning and checkup until after you get back from vacation, don't. You may have the beginnings of a problem that you don't feel yet, but a checkup may reveal early signs of the problem, and the dentist can nip it in the bud before it becomes a larger issue. This is something you definitely want to get taken care of before you leave, rather than risking a problem cropping up while you're away.
Some dental procedures can leave your teeth with some temporary sensitivity to air pressure changes. It's important, therefore, that you let your dentist know if you have any air travel on your agenda. Of course, this applies regardless of whether you're heading out on vacation or a business trip – anytime you will be flying within a week of your dental appointment, you need to let your dentist know right at the beginning.
With just this simple act of having a checkup before you go and making sure there are no developing problems, you can avert most dental disasters that would happen on vacation. However, no matter how well you prepare, there's always the possibility of an unforeseen issue like a chipped tooth or a toothache that seems to come from nowhere. If you cannot get to your regular dentist, you'll have to make a decision about whether or not to see a dentist immediately, or wait until you get back home.
For most situations, it's best not to wait. If you have dental insurance, contact your insurance company and explain that you cannot see your regular dentist. They will likely have an approved dentist where you are. If not, or if you do not have insurance, ask your hotel if they have a dentist they recommend.
Remember, prevention is quite often the best cure – make an appointment to see Dr. Rye in advance of your travel, just to make sure that everything is in good shape before you head out to have fun. The peace of mind is certainly worth it, and can help ensure that you have an enjoyable and safe vacation.