Longtime TMJ sufferer Orsi has finally found relief with the Neuromuscular Dentistry experts at Rye Smiles for Life.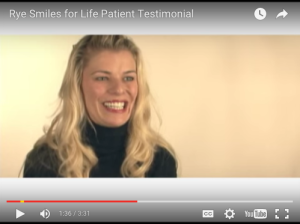 Orsi, a doting wife and former fashion model, felt self-conscious about her smile. Growing up in Eastern Europe, Orsi did not have adequate dental care to properly care for her smile or maintain her dental health. In addition to her dream of obtaining a beautiful "Hollywood" smile, she also began having headaches due to a misaligned bite. She was referred to Dr. Gordon Rye of Rye Smiles for Life in Fairfax, VA to alleviate her pain and deliver the smile makeover she has always wanted.
"I had headaches due to a terrible bite, and I was so grumpy and moody all the time. When Dr. Rye helped, it was like he just turned off the pain. It didn't take days or weeks…he just turned it off! No more headaches and no more medication. My husband even wanted to contact Dr. Rye and tell him he's a miracle worker! He changed my life. Not only do I feel better, but with some cosmetic work, I look better too. He changed my life."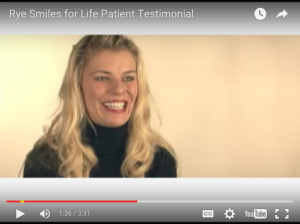 Many people suffer from chronic headaches, neck pain, or facial pain, but most do not realize the discomfort stems from their smiles! TMJ sufferers often overlook their misaligned bite to be the real cause of their discomfort, and Orsi was definitely one of them. Like Orsi, patients who suffer from TMJ often find that their discomfort is alleviated nearly instantly once receiving treatment – and the results are dramatic!
Only a trained neuromuscular dentist can identify the misaligned bite to be the cause of pain. Neuromuscular dentistry is an advanced form of dentistry that addresses the dysfunctions of the temporomandibular joint and its surrounding muscles and tissues. Instead of masking TMJ pain and symptoms with medication, neuromuscular dentists specialize in a direct approach that addresses the problem at its source. This may involve removing obstructions causing TMJ syndrome such as impacted teeth or scar tissue, or fitting the patient with an orthotic designed to reposition the jaw to its ideal position.
If you live in the Mclean or Fairfax VA area and believe TMJ to be the cause of your consistent neck or facial pain, call renowned Neuromuscular dentist Dr. Gordon Rye at Rye Smiles for Life today.