Leading Edge Technology and Careful Planning Permit Accurate Placement of Dental Implants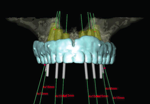 If you are missing teeth and are considering dental implants, you probably know that the dental implant process is becoming increasingly more available thanks to technology advances and more dentists who are trained to place natural-looking and completely functional teeth through the use of dental implants. We realize there are some who are interested in how the process works, and for those folks, we are providing a basic explanation of the process.
After we have determined that a patient is a candidate for dental implants, we take a digital CT scan of the patient's head, to capture an image of the bone and surrounding structure in which to place dental implants. We are using digitally developed surgical guides more frequently to ensure the most accurate placement of the implants..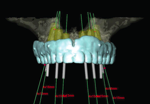 We upload the scan to computer software with implant data embedded within it. The software helps us ascertain exactly where to place implants, and after careful review, we have the lab prepare a surgical guide which we use for accurate implant placement. We have found that the surgical guides provide for a predictably successful result.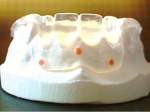 The surgical guide allows us to place as many as 14 new teeth using as little as four implants in the process, in only one surgical appointment! For patients who need only one or two implants, we usually can place porcelain crowns directly on the implants on the same day as implant placement. For patients who require more than a couple of implants, we can place a temporary conversion prosthesis (see below), which is functionally the same as a full arch of teeth, on the implants. A few months later, we attach permanent porcelain teeth, with no additional surgery required. This approach to replacing missing teeth is often referred to as "Teeth in a Day" or "All on Four."