Julie received crown and veneer treatment to improve the aesthetic of her smile – and she is thrilled with the results!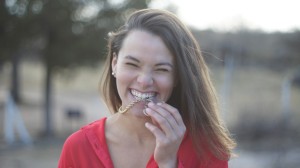 Many patients who walk through our doors are eager to improve the appearance of their smile, but they are concerned that their new crowns or veneers will not closely match their natural teeth. This is a very valid concern, as changing your smile's appearance with prosthetics that do not match the rest of your smile can have the opposite result of the white, uniform smile you'd been hoping for! The key to proper crown and veneer matching is placing your confidence in the hands of a qualified dental technician and dentist. Having a skilled cosmetic team in your corner can mean all the difference, and the Rye Smiles for Life team is known throughout the Fairfax, VA area to be the leader in cosmetic dentistry.
Just ask Julie!
"I have been a patient of Dr. Rye's for nearly 8 years. After consultations with several dentists, I chose Dr. Rye for the extensive cosmetic dentistry work I needed – more than a dozen crowns and veneers – and I couldn't be happier with the results! My teeth look gorgeous (and natural) and I continue to get compliments about my smile years later. The follow up and twice-yearly dental care has been excellent as well. Dr. Rye really cares about his patients and I have found his staff – both administrative and chair-side – to be professional and helpful. Whether you need high-end cosmetic dentistry or just routine check ups and cleanings, Dr. Rye delivers excellent results and service."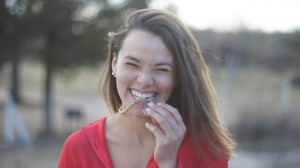 Julie was hesitant to receive the extensive cosmetic work she needed to transform her smile, but after a consultation with Dr. Gordon Rye, she knew her smile makeover was in the right hands. We make color matching between natural and prosthetic teeth a priority, and we are known by all of our patients to be tireless when it comes to strict attention to detail. The team at Rye also uses only the very latest in dental technology, meaning our veneers are much improved over those of our competitors and appear natural enough to be mistaken for real teeth.
If you feel embarrassed about the appearance of your smile and hide your teeth whenever possible, it's time to visit the cosmetic experts at Rye Smiles for Life. With dental implants, veneers, crowns, and more to provide the smile makeover you've been searching for, it only takes a single consultation to begin the journey to a brand new you. For more information, contact our Fairfax, VA office today.