Posted under:
General
Posted on: November 24, 2020
Invisalign: Frequently Asked Questions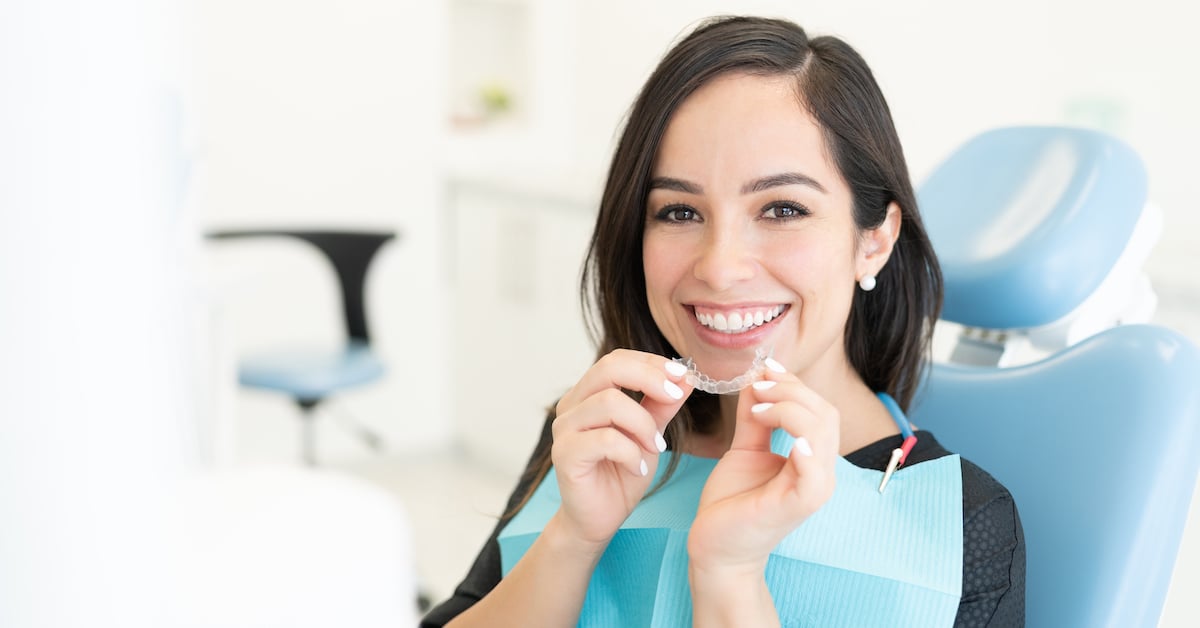 If you are sometimes less willing to smile because of issues with crooked teeth, our dental office can provide you with options that can help you resolve misalignments quickly and effectively. Invisalign is one of the most innovative and practical options for individuals who do not want the harsh and sometimes unattractive appearance of metal and wire braces but who wish to correct crooked teeth in a less noticeable fashion. Our team of dental professionals can provide you with expert help in determining whether Invisalign is right for you.
Is Invisalign Strong Enough to Fix My Gapped Teeth?
Unlike traditional braces that are attached to the teeth using wires and brackets, Invisalign consists of many separate trays that fit over the teeth and gradually push them into proper alignment. These trays are called aligners and are fabricated using SmartTrack, a flexible and transparent plastic material that can stand up to daily wear over the course of two or three weeks.
Each tray in the system applies progressively more pressure to your teeth to move them into place. Over time, the pressure applied by these aligners will resolve issues with crooked teeth and will allow you to enjoy the brightest and most beautiful smile possible. Our dental team will work with you to make sure that you or your family member derive the greatest possible benefit from your Invisalign treatment.
Is Invisalign the Right Choice for Your Situation?
Unfortunately, Invisalign is not the right choice for every patient who suffers from crooked teeth. Some of the most common factors that can prevent Invisalign from working properly include the following:
Children with teeth that are still in the process of growing and changing should not receive Invisalign treatment. If their teeth change shape or configuration, the Invisalign trays will not fit properly. This will require a new set of aligners to be made at additional cost to the patient and his or her parents or guardians.
Those who cannot commit to wearing the system for a full 20 to 22 hours each day are also not good candidates for Invisalign. The success of this treatment plan depends on the consistent wearing of the system during sleeping and waking hours.
Severely crooked or misaligned teeth will require traditional braces to achieve the desired results. Invisalign is designed for mild to moderate cases of misalignment.
Invisalign costs somewhat more than traditional braces. If the expense of Invisalign outweighs the benefits of its near invisibility while being worn, you may want to opt for a different type of orthodontic option.
Our dentists will discuss the pros and cons of Invisalign with you during your initial consultation in our office.
What Is Required for Getting Invisalign Placed?
During your first consultation with us, our dental team will help you determine if Invisalign is an appropriate choice for you. We may also take a look at your teeth to make sure that the misalignment can be corrected using Invisalign.
If you decide to go ahead with the Invisalign system, our dental staff will take impressions of your teeth to make sure that your aligner trays will fit your teeth and will produce the results you want over the course of treatment. Many aligner trays will be fabricated, each with a slightly different configuration. This will allow Invisalign to create the right pressure at every phase of your treatment.
You will usually wear each aligner for about two weeks before moving on to the next one in your series. Additionally, you will need checkups throughout the process to make sure that your Invisalign treatment is working properly. You will typically need to visit our office about once every four to six weeks once your treatment is well underway. During the initial stages, however, you may need to make more frequent appointments.
The number of aligners included in your Invisalign set will depend on how severely your teeth are out of alignment. We will work with you to discuss issues of cost and the proposed duration of your treatment during your first appointment in our office.
How Will Invisalign Affect My Daily Activities?
For the most part, you can continue with your regular routine while wearing Invisalign aligners. These orthodontic solutions should be worn at all times except when you are eating, drinking or brushing and flossing your teeth. This will ensure the best results from this advanced treatment plan.
You should be able to speak and interact with others normally. There may be a brief adjustment period while you get used to the feel of the Invisalign aligners. You should also sleep in your aligners to allow Invisalign to work during the night as well as during the day.
If you have any questions while undergoing Invisalign treatment, our dental team will be happy to work with you to find the right solutions for your needs. We are committed to the highest standards of patient care in the area.
What Happens After the Invisalign Process Is Complete?
For most patients, Invisalign produces outstanding results that look natural and that improve the appearance of their smiles. In some instances, we may ask you to wear a retainer on a temporary basis to help you retain the new look for your teeth. A retainer will help prevent your teeth from moving back into their original and less desirable position, protecting your investment and your time. We will discuss this with you to ensure that you understand all aspects of your treatment from start to finish.
How Can Our Local Dentists Help You Achieve Straighter Teeth With Invisalign?
At our dental practice, we offer a wide range of dental and orthodontic options that can help you look and feel your best every day. If you are interested in Invisalign or any of our other services, give us a call today to discuss your situation or to schedule a consultation with our team. We look forward to the opportunity to help you and your family achieve a lifetime of healthier teeth and more beautiful smiles.