How an All-on-4 procedure works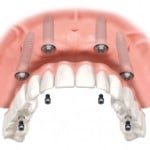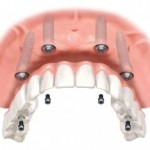 If you need several or even all of your teeth replaced with implants, you are probably worried about the discomfort involved, the cost, and how the end result will look and feel. However, it is important to note that you will not necessarily need separate implants for each tooth. All-on-4 implants combine multiple teeth onto one implant, with often an entire arch of teeth being supported on just four implants.
This may sound like two few implants to support so many teeth, but the All-on-4 procedure works slightly differently from standard single tooth implants, in that the angle of the implants is tilted to give the highest amount of stability. The two frontmost implants are placed vertically, whereas the two in the back of the mouth are tilted forward at 45 degrees. This allows the two back implants to root into the bone tissue nearer the front of the jaw, and the bone fusion occurs much more quickly.
The procedure itself takes much less time overall than separate implants, and in most cases bone grafting is not necessary. After the implants are placed in the mouth, there will probably be some discomfort and/or swelling in the mouth for a few days, but this will gradually improve. Also, the teeth you get on the day of your implants are permanent – no more temporary restorations that have to be replaced at a later date.
You will, of course, need to have a consultation to assess whether All-on-4 implants are right for you. While All-on-4 does work for many patients who need multiple teeth replaced, for some people it may not be recommended. If you are a smoker or have diabetes, for example, the dentist may have to discuss other options with you for replacing your teeth.
All-on-4 implants are known for their stability, and after your healing process is complete, you should not be able to tell the difference between your implants and natural teeth. You will be able to eat, speak, and best of all, smile normally, and there will not be any of the looseness or discomfort common with removable dentures.
For many patients, All-on-4 implants are the permanent answer to their dental woes. To find out if you are a suitable candidate, schedule an appointment today to meet with our team for a comprehensive examination and assessment.