Posted under:
General
Posted on: July 22, 2020
Gingivitis: Symptoms and Causes in Fairfax, VA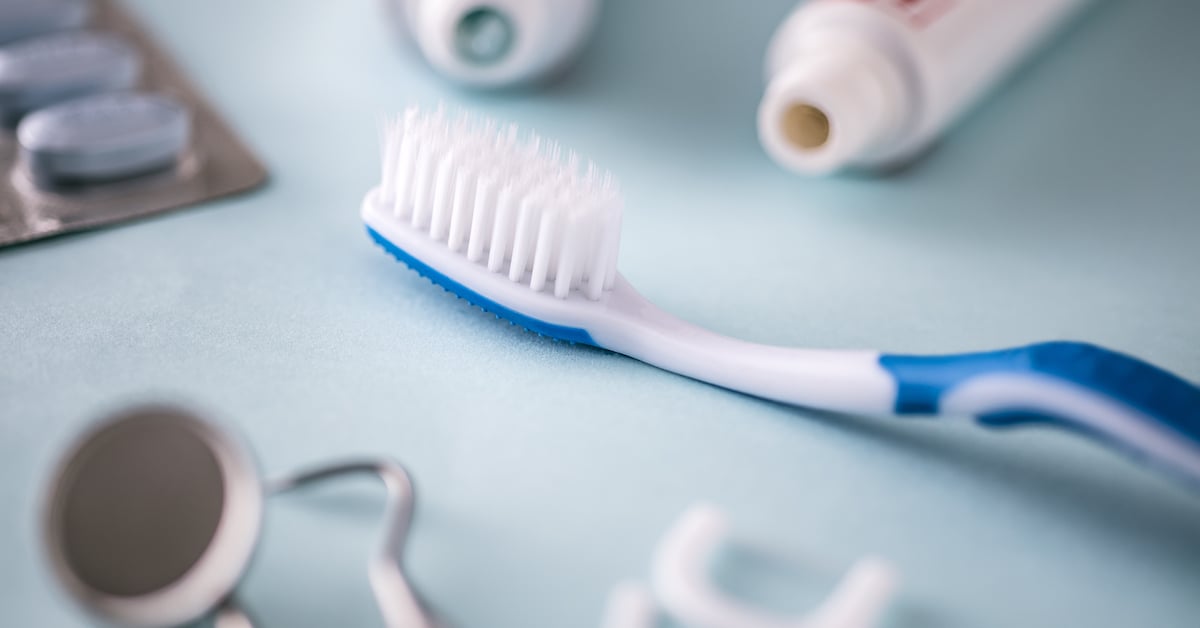 What Causes Periodontal Disease and What Are the Symptoms?
If you've noticed blood when you brush or floss or an increase in the incidence of halitosis, then you may be at the beginning stage of gingivitis. Keep reading to learn more about gum disease and how to prevent and treat it.
Can Periodontal Disease Be Prevented?
According to the CDC, more than 47 percent of adults 30 and older have some type of gum disease. By the time they've reached 65 years and beyond, the number rises to more than 70 percent, with men more likely than women to develop gingivitis. Without treatment, gingivitis can turn into a more advanced stage of gum disease called chronic periodontitis that could cause permanent damage to the gums and jaw, as well as the loss of your teeth. This is very unfortunate because, when caught in its early stage of gingivitis, gum disease is curable, and with a regimen of good oral hygiene, it's completely preventable. It's important to know the signs and symptoms of gingival disease so you can catch it early before it progresses to periodontitis.
How Do I Recognize the Symptoms of Gingivitis?
Since gum disease often has no symptoms, you could have it for some time but not realize it. Usually, there's no pain involved, so you need to watch for the following symptoms. If you notice any of them, call your dentist without delay.
A bad taste in your mouth
Any bleeding when you floss or brush
Any gum discoloration, such as red or purple gums
Larger or changing gaps between your teeth
Loosened teeth
Pain when you chew
Persistent bad breath
Receding gums
Swollen or sensitive gums
What Causes Gingivitis to Occur?
The primary cause of gingivitis is a lack of good oral hygiene. Ideally, you should brush and floss after each meal or snack, but this isn't always feasible. Ask your dentist to recommend the number of times each day you should brush and floss in order to maintain your good oral hygiene.
After you eat and drink, a sticky substance called plaque forms on your teeth. It's full of bacteria and if not removed through brushing and flossing, will settle between your teeth and in the crevices in your gums and begin to accelerate the growth of oral bacteria. If you consume lots of processed carbohydrates and sugars, the formation of plaque will be accelerated. If not removed, the plaque will become tartar, which is a very hard substance that can only be removed by a dental professional. Once plaque and tartar have been left on teeth for a long time, you're at risk for developing chronic periodontitis, an advanced stage of periodontal disease, leading to the need for a deep cleaning, which involves root planing and scaling. Gingivitis also increases the level of inflammation in your gums and tissues, which can spread throughout the body.
Are There Additional Risk Factors for Developing Periodontal Disease?
Even if you have good oral hygiene, these risk factors can increase the likelihood of developing gum disease:
Diabetes, HIV/AIDS, and any other health conditions that lower the efficiency of your immune system
Hereditary tendency
Hormonal fluctuations
Inadequate nutrition, especially if your diet lacks an adequate amount of vitamin C
Prescription or over-the-counter medications that cause dry mouth
Dental restorations such as bridges, fillings or dental appliances that don't fit well or are defective
Smoking or chewing tobacco products
If you have any of these risk factors, you should be even more thorough with your oral care.
Can My Physical Health Be Jeopardized by Periodontal Disease?
Although periodontal disease is generally associated with oral health, it can also cause other health issues. According to the American Association of Periodontology, some of the serious health conditions associated with gingival disease are:
Cardiac disease: Those who have been diagnosed with cardiac disease have a higher incidence of gingival disease than those who don't have heart issues.
Diabetes: Diabetics who had controlled blood sugar levels had a lower incidence of gingival disease than those whose blood glucose levels were poorly controlled.
Pulmonary diseases: The bacteria in the mouth can be transmitted to the lungs through normal breathing and can cause lung diseases, according to the AAP.
Arterial stroke: Those with gingival disease were found to have a higher incidence of arterial stroke than other types of strokes.
Certain types of cancer: The AAP reports that men with periodontal disease were 30 percent more likely to develop certain blood cancers, 49 percent more likely to develop kidney cancer, and 54 percent more likely to get pancreatic cancer than men with good oral health.
What Are the Best Treatment Methods for Periodontal Disease?
The best treatment for periodontal disease is to prevent it through a regimen of good oral hygiene. Brushing and flossing on the schedule provided by your dentist and having regular dental checkups will help you maintain optimal oral health. Since periodontal disease is often asymptomatic, you may have it without realizing it. However, your dentist should be able to spot it, so dental checkups are essential.
If it's been a while since your last dental checkup, call our office to make an appointment or use our convenient online booking tool at your convenience. Either way, contact us today and let's get started on ensuring your good oral health.