Posted under:
General
Posted on: April 16, 2018
Dr. Rye Changing Lives: Our Patient Valerie – "Make my smile pretty again."
Valerie Testimonial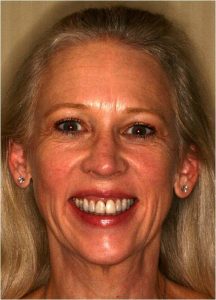 I love to smile.  I have a great big smile and find smiling and laughter good for the soul.  However, as I aged, my teeth became yellowed and worn. Even though they were mostly straight (thanks parents!) there had developed some crooked spots.  Additionally, medication I had taken as a child had stained some of my teeth and the old bonds covering it up were cracking and dull.
I came to Dr. Rye with a request.  Make my smile pretty again. I decided that at 52, your smile lights up your face in ways that plastic surgery and Botox cannot.  It is the center of attention and a youthful smile makes a youthful woman. We selected a bright white porcelain since I am a fair, light-eyed blonde.  The process was explained in detail, mock-ups of the finished product were presented to me to show how Dr. Rye would shape the teeth to all be matched and in alignment.  The staff is absolute superb; caring and compassionate.
I got the best Christmas present to myself ever.  The veneers went on right before Christmas.  What an incredible difference! Everyone was completely "wowed" by my brilliant, perfect teeth.  And I mean perfect. Hollywood has nothing on me. I had a formal portrait done a couple of months after and I look ten years younger.  What a beautiful change.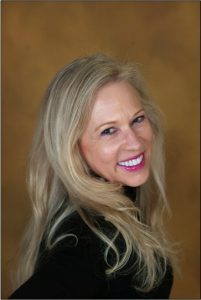 This procedure is an investment.  It is not cheap. But it is an investment in you that will last a lifetime.  Botox is short, face lifts droop, but your teeth will be white and dazzling forever.  People always comment now on my beautiful smile, which, since I am always in the public eye, is a big plus for me.

Thanks Dr. Rye for making positive difference in my life.  Smile. : )
Dr. Rye Overview of Valerie's Case
Valerie came to me with a desire to have her smile match her wonderful outlook on life. She suffered with discolored teeth from a common childhood medication, and old, worn out restorations. She knew that, being in the public eye, her nicest benefit would come from a total smile makeover. She, my staff and I designed her new smile with the use of extensive photography, precise facial and dental measurements, and wax mock ups. In two appointments she walked out with a gorgeous all-porcelain smile. The discoloration was gone, and her new smile was perfect for her. Now Valerie loves to bring her cheer to everyone she meets.