Posted under:
Cosmetic
Posted on: July 23, 2018
Dr. Rye Changing Lives: Our Patient Kevin – "Dr. Rye absolutely is not satisfied until it's perfect."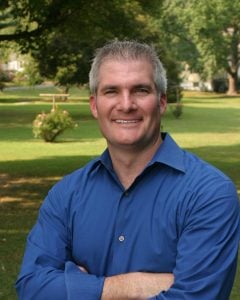 Kevin Testimonial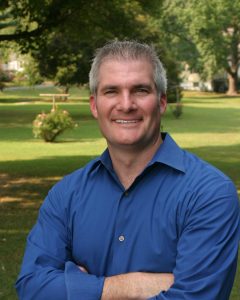 The first time I met Dr. Rye was a referral from my wife.  She was a patient of Dr. Rye's before I was. My wife has got the best smile in the world – I don't know why she was looking for a smile consultation.  But I certainly needed one. My smile before, although my wife says it was a great smile, she was being nice. You really couldn't see any teeth. I actually smiled on purpose with my lips closed so that you couldn't see any teeth.  It really literally took me about two months to figure out how to re-smile again so that people could see my teeth. To me, having a lifetime of no smile because you couldn't see my teeth when I smiled, and because my jaw was starting to hurt, and I knew it was only going to get worse as I got older, I said, "Let's go ahead and do this."  The amount of satisfaction that you get from a perfect exceptional smile is not to be underestimated. It is amazing the way you feel about yourself. It's enjoyable to talk to somebody who has a beautiful smile. Dr. Rye absolutely is not satisfied until it's perfect. And part of that is that you need to be there; you need to be feeling that you're perfect.  Then he takes it to the next level, because for him it has to be perfect for the customer and perfect for him. The cost associated in both time and money for me was absolutely worth it and continues every day to increase. It's like exponential interest earning money because for me every day gets better and better with the initial investment I made along time ago and will continue on and on and on throughout my life.
Dr. Rye Overview of Kevin's Case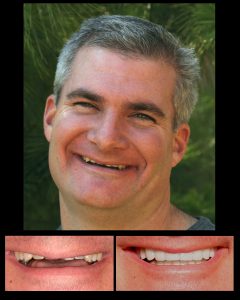 Kevin showed almost no upper teeth, all of his life, even when he smiled. He compensated by teaching himself to alter his smile so no one could tell. He was developing jaw pain, which he correctly associated with his bad bite. Physiologic Based Dentistry facilitated opening the vertical dimensions of his face. We gave him a smile perfectly proportional to his face, and ridded him of his jaw pain at the same time. Kevin is a dramatic example how we can improve a person's self image and health.