Posted under:
Cosmetic
Posted on: December 4, 2012
Cosmetic Dentistry for All Budgets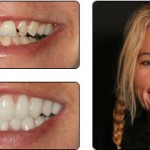 There's a common misconception that cosmetic dentistry is a luxury only for movie stars and people who have huge amounts of disposable income. While it's true that there are cosmetic procedures that can be quite costly, not all cosmetic dentistry is expensive. Depending on what sort of improvements you would like to make to your smile, we can offer you various options so that you can get the results you want at a price level that suits your budget.
The first step is to make an appointment for a consultation. Personalized care is at the heart of any series of procedures, because what you're looking for is an exceptional smile that's tailored for your face. The dentist will discuss your goals with you, and create a plan for achieving those goals in the best way possible.
Porcelain veneers are a great option for those who need to fix minor gaps in the teeth, or to improve the appearance of chipped or discolored teeth. Veneers are very thin porcelain shells that fit over the teeth, and they are custom-made to have the appearance of natural teeth. The veneers process takes two appointments, one to make an impression of the teeth, and the second to fit the veneers and buff them.
For those who only have minor issues, dental bonding can be a great solution, and it's also perfect for those on a budget. Dental bonding can be done in a single visit, and can be used for repairing cracks, discolorations, or minor misalignments. The procedure for dental bonding is relatively simple; a putty is applied to the tooth or teeth in question, and then sculpted accordingly and polished. The result is similar to that of veneers, often at a fraction of the cost.
If it's your gums rather than your teeth that are the problem, laser gum re-contouring is available to correct gum shape. The laser provides a safe and easy way to remove excess gum tissue, or to even out the gum line in cases where there's an imbalance in the smile. This can be very helpful for people who have short teeth or a a gummy smile, and can make the smile more attractive and proportional.
There's no reason to wait if you've been dreaming about a perfect smile – contact us to schedule an appointment for a consultation, and start your new year off the right way!