Best Oral Care Practices for Back-to-School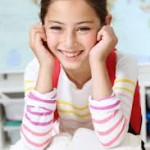 It's that time of the year – the kids are heading back to school. Although it's impossible to keep tabs on them 24/7, you can instill some good habits in your children so that while they're at school, they have the best possible chance of avoiding the issues that can lead to tooth decay. Here are four things that can really make a difference in the oral health of the young students in your family.
1. Consistent brushing at home. A strong and consistent habit of brushing teeth twice daily, once before school and once before bed, is probably the best defense against tooth decay in young children. Remember that brushing is not something to be rushed through – teach your child that slow, thorough brushing is necessary in order to get teeth really clean.
2. Rinsing at school. Although brushing may not be practical or even possible after lunch at school, even a quick rinse with water can help remove the food particles that lead to bacteria development. Rinsing also helps return the pH in the mouth to a more neutral level, which can help protect tooth enamel, and it also helps prevent bad breath.
3. Good eating habits. Keeping a close eye on your child's nutrition is essential not only for their overall health, but for the health of their teeth, as well. Processed, sugary snacks are okay on occasion, but should not be a daily treat. Also to be avoided are acidic sports drinks and carbonated beverages, both of which can wreak havoc on tooth enamel.
4. Regular dental visits. Although it can be difficult to make time, it is important to keep up with regular dental visits during the school year. Doing so is a great preventative measure, as early detection of cavities and other tooth problems means that less school will have to be missed as a result. Also, regular cleanings can help keep things like plaque in check, which in turn will mean fewer issues in the future.
It's also important to remember the connections between oral health and overall health. People with good oral hygiene habits set themselves up for better health in general. As more connections are discovered between poor oral health and major diseases, it becomes more important than ever to assure that your child picks up good habits right from the start, so that those habits can be carried through into adulthood.