A timeline for dental implant recovery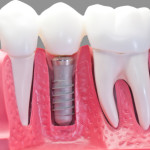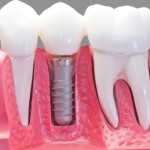 Getting dental implants is an exciting thing. Especially if you've been missing one or more teeth for a while, seeing your smile complete again for the first time is a wonderful experience. Of course, the way your smile looks is only one aspect of the benefits of implants. Having a full set of teeth is important for your overall health, and can greatly impact the health of your mouth and jaw.
It is essential when you get dental implants to understand the recovery timeline, so that you will be prepared for the temporary changes you will have to make to your lifestyle after the procedure. Naturally, every patient is different and every procedure unique, so you will be given advice for your specific situation at the time of your consultation, but in general terms, here are a few things you can expect.
If you're only having a single implant, the procedure will not affect your daily routine very much. You will probably not even experience any swelling, though there may be some soreness around the area for a day or two, and that can be controlled with pain medication. You should be able to return to work or your normal schedule the following day.
If you are having an All-on-4 procedure, it is likely that there will be some swelling that will return to normal within a few days, and you will probably need pain medication to help you for about that same length of time. You should be able to return to your normal schedule after about three days, depending on your tolerance level.
For the first month after you get your implants, you will need to be somewhat careful when eating,and avoid foods that are difficult to chew. It takes time for the bone to start growing around the implant, and you want to make sure the implant stays in the correct place while this is happening.
The part of the implant area that takes the longest time to heal is the gums. Those who have a history of poor gum health due to medical conditions, smoking, or unhealthy diet will find that their gums will take much longer to heal than those with healthy gums. Although it only takes a few days for you to be able to return to your normal life, your gums can take many weeks to heal, and may be quite swollen for some time. This is normal and is nothing to be alarmed about.