Patient Case Studies
TMD Treatment Can Relieve Trigger Thumb Among Other Ailments
Pauline contacted our office complaining that her jaw was locking up on one side, making it difficult for her to eat. She described headaches, shoulder and neck aches, and explained that she was taking medication for the pain, but she did not know what was causing the pain.
At her first appointment, she told us she found our practice on the internet. She had been looking for a "TMJ specialist." She reported that she had braces as a child and her first bicuspids were extracted for the orthodontic work. She started experiencing headaches after the braces were removed. She detailed a long history of medical issues including carpel tunnel release in 1995 as well as Reflex Sympathetic Distrophy (nerve condition) diagnosis he same year. A Transient Ischemic Attack (TIA) in 2003 caused a fall, resulting in a back injury and increased headaches. The same year she was diagnosed with Fibromyalgia, which resulted in her retirement with disability in 2005. In 2004 she experienced a cervical neck sprain in an automobile accident. In 2007 she sought treatment by a neurologist for repeated cluster headaches. The neurologist had prescribed the following medications to treat her various ailments: adderall, metaxalone, imitrix, prednisone, and temazepam. In 2011 she had sought treatment by an accupuncturist.
We completed an occlusal analysis and took impressions for an orthotic to be manufactured specifically for Pauline to wear to adjust her bite over time. We delivered the orthotic approximately one month following her first visit to the office. She returned the next day for an adjustment, reporting that she was feeling much better and was experiencing less popping. A week later, she reported that her headaches were almost gone and that the neck pain and problems sleeping had improved. She said the popping and clicking had ceased.
In her visit approximately four months after orthotic placement, Pauline reported that her TMJ was better, she was better able to open her mouth, her clenching/grinding was better, and the pain in her neck and shoulder was better. Her headaches had not fully subsided, and she was experiencing some TMJ noise.
Meanwhile, while Pauline's bite was being adjusted by the orthotic, we discussed her options for permanent resolution of her TMD. She decided to proceed with porcelain veneers designed to correct her bite. The veneers also offered a terrific cosmetic result for her. Approximately five months following delivery of the orthotic, we prepped Pauline's teeth for porcelain veneers, designed to the bite established by the orthotic. A few weeks later, we cemented permanent restorations that established her new bite and her beautiful new smile.
A short time after we completed Pauline's case, she told us that her trigger thumb symptoms had completely disappeared. Until that time, we were not aware of the trigger thumb issue; she had not disclosed the problem in her consults with us. When we talked about it, she said that she simply had not seen a connection between her TMD and her trigger thumb. We were so pleased she had this result, which we are now quite sure was related to resolution of her TMD. The neuromuscular treatments corrected her occlusion, which resulted in release of pressure on nerves in the neck. The release of pressure on those nerves can lead to increased nerve function in the hands. She told us that she had been planning surgery involving fenestration of the fascia of the thumb. She was thrilled to be able to cancel her surgery and reported that her surgeon was amazed at her recovery without surgery. We were also pleased with the bonus she received from our TMD treatment!
---
TMJ Dental Treatment Plan For Debilitating Headaches, Neck Pain And Teeth Grinding Fairfax VA
Kitty came to the office seeking minor corrections to her already pretty smile. However, in her initial consult she described frequent debilitating headaches, neck pain, sensitive teeth, clenching and grinding – all symptoms consistent with Temporomandibular Disorder (DMD). Our exam revealed fractured and worn teeth. After taking exacting measurements, Dr. Rye concluded that Kitty's bite was collapsing, and her facial profile was shrinking in the lower third of her face. Using computer analysis, we constructed a custom, fixed temporary orthotic for her, designed to get her symptom-free without performing any irreversible procedures on her teeth or jaw.
After a few months of wearing the orthotic without pain, clenching or grinding, Kitty decided to make a permanent change in her teeth that allowed us to correct her bite problems instantly. Dr. Rye placed 28 beautiful all- porcelain crowns and veneers. Now the lower third of her face is in the perfect proportion for her. Kitty remains pain free and is thrilled with her full and natural new smile.
"It has been a win-win situation to lose the headaches and get the nice smile. I love Dr. Rye, and my smile!"
---
Dental Implants With Sedation Dentistry Fairfax VA
Jacqueline, of Vienna, VA wrote us a great letter about her sedation dentistry experience, and we are appreciative that she allowed us to share it here:
I had lost a tooth that had previously had a crown and a root canal. I also needed sedation dentistry. In addition, I had an old, very large loose filling and prior to my procedure, broke a crown. Dr. Rye was the second dentist I spoke to regarding an implant. The first dentist/surgeon stated that I needed a sinus lift. Dr. Rye uses more advanced x-ray technology and determined that I had enough bone for the implant without having to have a sinus lift. I had a consultation with Dr. Rye and discussed my overall objectives with respect to my dental concerns/issues. I also needed to have sedation dentistry. The day before the implant proceedure, I broke another crown. I phoned his office, and he arranged for the broken crown to be removed and prepared for a new crown along with the implant and new filling. The whole process went very well. I have been back to have the permanent crown put in place. He and his staff were very reassuring and took all my concerns, fears, etc to heart to make sure I was comfortable. The oral sedation was very helpful to me. Dr. Rye's services are not inexpensive, however, he uses the latest technology and has outstanding, well-trained staff which is highly important. In my opinion, his services are well worth it, as it is an investment in my overall dental health. I will continue to utilize his services.
"In my opinion, his services are well worth it, as it is an investment in my overall dental health."
---
Addressing Missing & Malformed Teeth With Dental Implants Fairfax VA
This patient was a teenager referred to us by her orthodontist as she neared the end of her orthodontic treatment. She was missing one maxillary lateral incisor, and had a malformed adult tooth on the other side. She had a false tooth in place during the orthodontics. We worked with the referring orthodontist to ensure a successful outcome. Once the teeth were straight, we gave her two natural-looking implants just in time for prom night!
We gave her two natural-looking implants just in time for prom night!
---
Smile Restoration With Dental Implants Fairfax VA
When Dorothy first visited us, most of her posterior teeth (her molars) were missing. She had completed chemotherapy and radiation treatments for breast cancer treatment about 8 years previous to her visit. About five years after her cancer treatment was complete she began having issues with her teeth and as a result had most of her molars extracted. Since the molars protect the front teeth, her chewing efficiency was compromised, her nutrition suffered, and she was beginning to lose her front teeth. The "vertical dimension" of her smile was diminished by the missing molars as well. Her chin was getting closer to her nose, and the corners of her lips were turning down prematurely, increasing the prominence of the nasolabial fold "wrinkles" of her face.
Until recently, the typical treatment plan for Dorothy would have been a full or partial upper and lower denture. She was only 60 years young and I knew that if she had enough bone to support dental implants not only would she be able to retain her existing jaw bone but she would also be able to have esthetically and functionally natural teeth for the rest of her life. We could regain her natural vertical dimension, giving her, in effect, a "nonsurgical facelift". The corners of her mouth would be uplifted, and the prominence of her nasolabial folds would diminish.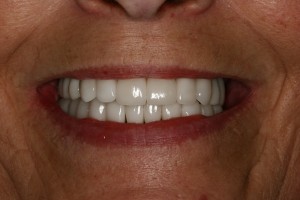 We took an x-ray on a Prexion 3D Cone Beam CT Scanner and I knew immediately that I could place at least two implants. After studying Dorothy's CT scan further and utilizing the Prexion virtual implant placement software, I found that I could potentially place 7 implants with the use of CAD/CAM technology and an implant surgical guide. Having the advantage of being able to place implant supported molars allowed us to stabilize her jaw structure to regain her lost vertical dimension. We are now able to open up her over-closed smile, renew her ability to chew all foods, protect the front teeth and regain the original length of her front teeth with the use of porcelain veneers. Thanks to the technology of the CT scanner, as well as many other recent advances in dental technology available to us, and our many years of training, we are now able to do a full mouth reconstruction on this cancer survivor and give her a brand new functional, beautiful and natural smile to use for the rest of her life.
"For several years my daughter had encouraged me to see Dr. Rye. I hesitated as I had my own dentist that I had been seeing for many years and did not want to change. After losing several teeth I made an appointment to see Dr. Rye, again at the encouragement of my daughter who stated that I was not getting the proper care. I was very upset and embarrassed, you see I had always had a beautiful smile and now it was gone. I felt that nothing could be done to bring it back, but I made the call anyway. I cannot begin to tell you how very happy I am to have made that call. I was welcomed by a very professional and caring staff. I found that I had many other problems than just a loss of teeth. My hygienist worked with me for many months to clear up a very bad problem with gum disease and infection which had caused the loss of my teeth along with other problems. I met with Dr. Rye who I found to be very professional, caring, kind, and gentle. After studying my case during my treatments he stated that he could bring back the smile I once had. I have had several implants which have healed nicely and soon will be in the process of placing the new teeth along with several crowns. I am so excited to see the end result.Dr. Rye has made a huge difference in my life, not only by restoring my smile but by giving me back my self-confidence. I love Dr. Rye!"
Dr. Rye was able to do a full mouth reconstruction on this cancer survivor and give her a brand new functional, beautiful and natural smile to use for the rest of her life!
---
Complete Smile Makeover With Sedation Dentistry Fairfax VA
Kristin was a childhood patient of Dr. Rye's but had left the practice for an extended period of time after getting married. When she first came back to see Dr. Rye, she had broken molars and her gums were swollen. Her primary concern was the molars and the health of her gums, but she also wanted a smile makeover with new veneers on her other teeth. She suffered from dental anxiety and was interested in oral sedation for her treatments. The personalized treatment plan Dr. Rye prepared for Kristin included periodontal therapy, extractions, implant placements to replace the broken molars, and restoration of the remaining teeth with porcelain veneers. Dr. Rye was happy to be able make it very easy for Kristin to have the beautiful smile makeover she wanted, in addition to restoring her to optimal dental health.
Dr. Rye was happy to be able make it very easy for Kristin to have the beautiful smile makeover she wanted.
---
Treatment Plan To Address Symptions Of "TMJ" With Gum Recontouring & Dental Implants Fairfax VA
Mary was a recent college graduate when she first visited our office. Her father had planned on giving her a new car to congratulate her on her graduation, but she wanted a new smile instead. Mary had been through years of orthodontic treatment, but her final bite was never satisfactory. She had some missing teeth and retained baby teeth, and a crossbite which she wanted to correct to be more aesthetically pleasing. Mary could not close her back teeth together comfortably, and she was developing popping and clicking noises in her tempero-mandibular joints ("TMJ"). She had considered going back into braces to close the gaps left by the retained baby teeth.
Dr. Rye's personalized treatment plan recommended reshaping some gum tissue, and extraction of the baby teeth, and replacement of missing teeth with implants. Her treatment started with the gum recontouring. When the gums had healed, her baby teeth were extracted, implants were placed, and beautiful porcelain crowns were placed on the implants. Mary's treatment was completed within nine months. Mary can now, for the first time in her life, put her teeth together into a consistently comfortable, painless bite, without symptoms of "TMJ". Mary receives many compliments on her absolutely gorgeous new smile, sometimes even from people she has only recently met.
Mary receives many compliments on her absolutely gorgeous new smile!
---
Smile Cosmetic Reconstruction And Reparation Fairfax VA
Joan wrote us one of the nicest letters we've received, and she allowed us to share it here:
"Four years ago in my search on line to find a dentist closer to home, I happened upon Dr. Rye's Smile for Life web page. His credentials, testimonials and awards were impressive to read, and I immediately called for an initial consultation appointment. It was pure delight to meet Dr. Rye – a man who not only was genuinely and sincerely dedicated, but was someone who had a very calming, caring, and gentle nature – assuring me that my personal needs and comfort were of greatest concern. Additionally, I was introduced to his office's state-of-the-art technologies, photo-imaging, and dental procedures – most of which were new to me. I opted for cosmetic reconstruction and reparation – which, surprisingly, was all completed in only two subsequent visits. Since then, I've been enjoying routine exams and teeth cleaning with Dr. Rye's extremely competent and warmly friendly Dental Hygienist. My smile is healthier and more beautiful than ever!"
"My smile is healthier and more beautiful than ever!"
---
Smile Reconstruction To Address Teeth Grinding & Jaw Pain Fairfax VA
Matt had almost destroyed his smile over the years by clenching and grinding his teeth together. Something about his bite was just not right. His teeth were becoming shorter and flatter and were wearing down. His face was collapsing vertically between his nose and chin as a result. Matt and Dr. Rye talked about how a bad bite could cause joint problems and even premature tooth loss. Matt and Dr. Rye decided to restore his mouth to proper function and aesthetics. First, Dr. Rye used sensors and computers to track Matt's jaw movements, and to find the position where his head and neck muscles were in their most relaxed state. Dr. Rye then constructed a comfortable appliance that allowed Matt to function in a new bite position, without proceeding with permanent invasive procedures on his teeth or jaws.
After a few short months wearing the appliance, similar to an orthodontic retainer, Matt decided to proceed with the reconstruction process. Dr. Rye used study models, digital photographs and radiographs, computer imaging, a guide called the Golden Proportion, and perpetual continuing education to design Matt's new bite and smile. In one morning appointment Dr. Rye then prepared his teeth to receive transitional teeth that closely resembled what his finished smile would look and feel like. Matt was ecstatic with the immediate results. A few short weeks later, Dr. Rye bonded into place Matt's new teeth, custom made to Dr. Rye's specifications from the finest porcelain available. Matt has not only stopped destroying his teeth; he enjoys being able to chew better and he looks great doing it!
"Matt enjoys being able to chew better and he looks great doing it!"
---
Smile Makeover With Porcelain Crowns And Dental Veneers Fairfax VA
Rhonda had felt self-conscious about her smile most of her adult life. She wanted to look beautiful and to be able to smile freely in her professional life. Dr. Rye designed and custom-made Rhonda's new smile in two short appointments. He placed beautiful porcelain crowns and veneers on all of her upper teeth. Rhonda says her life has changed! Her smile is not only functional, healthy, and esthetically engaging; it has improved her self confidence and enhanced her life!

"It's like a dream come true for me to be more confident in how I look."