Media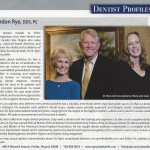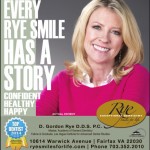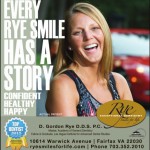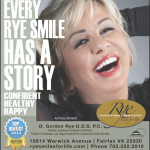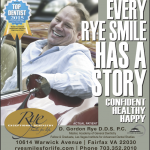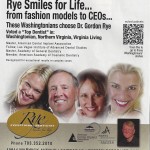 ---
Dr. Rye Named A Best Of Virginia Dentist In Virginia Living Magazine
Dr. Rye was again named a Best of Virginia winner by Virginia Living Magazine. The award is based on reader voting. According to the magazine, more than 25,000 readers participated in the voting, more than double the number who voted in 2011, a year in which Dr. Rye was also rated a Best of Virginia winner. Dr. Rye credits his incredible team and is grateful to his patients for the confidence they place in him and the Rye Smiles for Life team every day.
---
Dr. Rye Named Top Dentist For Cosmetic Dentistry In Northern Virginia
Northern Virginia Magazine asked all the area dentists they could find, "Who would you trust with your dental needs." Dr. Rye was one of only two Fairfax dentists on the list for Cosmetic Dentistry.
---
Dr. Rye Named A Top Vote-Getter For Cosmetic Dentistry In Washingtonian Magazine
Dr. Rye was again a top vote-getter for cosmetic work. Washingtonian magazine's Top Dentist list is put together using a poll of 2,000 Washington area dentists, asking them which of their peers they would trust with their own family's dental needs.
---
Voted Top Dentist In 2012
---
Northern Virginia Magazine – November 2012
---
Washingtonian Magazine – November 2011
---
Road Scholar Catalog – November 2011
"Ended up on cover of Road Scholar travel catalog, as result of beautiful smile/teeth (thanks to Dr Rye). So now I am a "cover girl"." — Judy M., Reston, VA
---
Northern Virginia Magazine – November 2011
---
Washingtonian Magazine And Northern Virginia Magazine – 2009
Washingtonian Magazine and Northern Virginia Magazine honor Dr. Rye as one of the top dentists in the metropolitan Washington, D.C. region, both for general dentistry and for cosmetic dentistry as well as one of the top dentists in Northern Virginia.
---
Northern Virginia Magazine — February 2008
Dr. D. Gordon Rye believes that all patients should live life to the fullest and look their best doing it. Dr. Rye has provided Exceptional Dentistry to residents of the D.C. Metro area for over 25 years. He is uniquely qualified and philosophically committed to quality outcome-based dentistry, combining art, science and technology with personalized care.
---
Elan — February 2006
Dr. Rye speaks about how he creates a beautiful smile for his patients in this question-and-answer session with Elanmagazine. Read Dr. Rye's answers to questions such as "How does the Golden Proportion concept influence your profession?" and "What do you recommend your patients do to keep their gums healthy?"
---
Dental Economics – August 2006
Rye Smiles for Life was honored with the Outstanding Design Efficiency Award for Small Practices by Matsco in 2005, and is featured in this Dental Economics article as Office of the Month. Dr. Rye and his team have taken great care to ensure that their Fairfax cosmetic dentistry office is comfortable yet efficient, featuring the latest in technology and amenities.
---
Elan – February 2007
Learn more about how aesthetics and functionality go hand-in-hand with Neuromuscular Dentistry performed at Dr. Gordon Rye's practice. Live life to the fullest – with a gorgeous smile free of jaw pain.